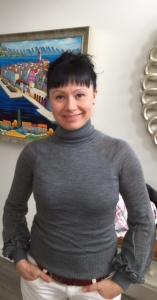 We are very busy at our lessons for 2,5-4 year olds: learning Russian letters/sounds, practising by means of games, discussing various topics (e.g. seasons, Russian and Australian holidays, basic geography, professions (you name it!)), doing arts and crafts (as per discussed topics), rhyme timing followed by kids' performance.
I am a teacher of English and German languages by degree and although most of my background is within Recruitment/HR, I did English tutoring for kids during my uni days, additionally I worked as a counsellor in summer camps and I can't help mentioning that being a mum of 2 bilingual speaking children helps teaching at Mosaica.
The aim of my classes is to teach the Russian alphabet, provide an opportunity to obtain some basic topical Russian vocabulary (speech development), introduce Russian folklore, culture, traditions to our children; trying to interest the kids by participating playfully matters!